We gathered chrysanthemum stone on the valley in Neo in Gifu Prefecture and were examining the origin. It is believed that chrysanthemum stone is aragonite false form calcite generally. However, we could not get the specimen which shows it. Rather, we noticed that there were a lot of evidence specimens that it is sponge fossil.
We think that we will publish a such chrysanthemum stone photograph. Also, we knew that there is a sponge in this world which resembled the form and the ecology of chrysanthemum stone.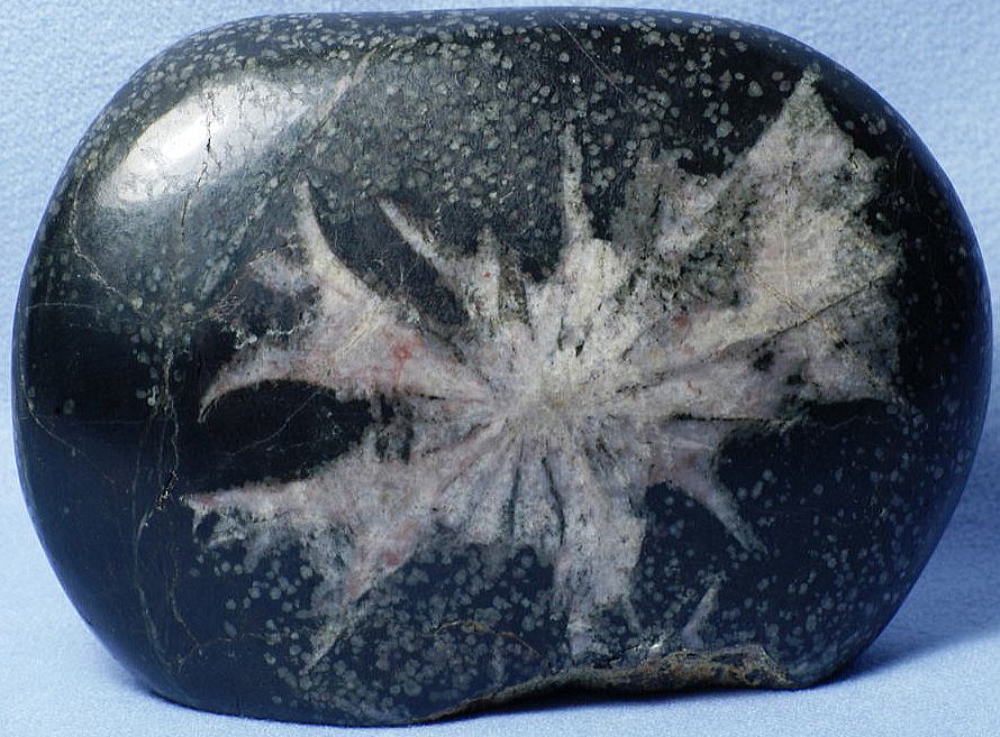 When clicking an image, it made sure for the big screen to open and to understand a state of the detail. We could not find the evidence of the false form calcite of the aragonite in the specimen in Neo.
The relation web site is the trash box of the department of science (The subtitle is
Mineral knowledge collection diary
).
     *****************************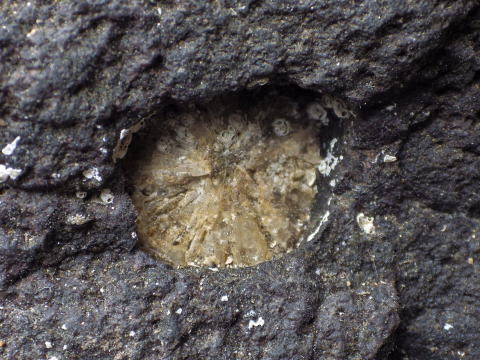 石川県恋路海岸の霰石です。玄武岩中の空洞に結晶してます。丸い空洞の中心から、霰石の結晶が放射状に伸びている様に見えます。しかし、この中心点、地球に重力が有る以上、空中に結晶が浮いている訳が無いので、そこから結晶が放射状に伸びると言う事は有り得ないのです。つまり。空洞壁から中心に向かって伸びている事になります。放射状の鉱物や岩石でも、この様な例はたくさん有りそうです。例えば、球状花崗岩、これも、間違いなく、この例でしょう。「放射状=中心から結晶が伸張したもの」と言う先入観は、まず捨てるべきです。でも、霰石でも、中心から放射状に伸びている物も、たくさん有ります。その場合は、完全な球体にはならず、その中心が、どこかに定着してますから判るはずです。
 そこで、菊花石の場合は、どうかと考えると、完全な球体。どこかに浮いていないと、こうはなりません。輝石等の多い母岩は、霰石よりも比重が大きそうですから、浮いていたのかもしれません。しかし、輝石などは鉱物粒子、固体です。これを排除してまで、結晶は成長できないはずですから、これは無理です。菊花石の鉱物結晶説は、どう考えても、無理な気がします。
*****************************************
 菊花石と言えば、普通は、菊の花のように見える綺麗な菊花石がよいのでしょうけど、僕の場合は、どうしても、成因を示している菊花石の方が好きなのです。
 ある時、K仙人(と言っても亀仙人ではありません、K仙人さんです)さんの家に遊びに行った時、目に付いたのがこの石。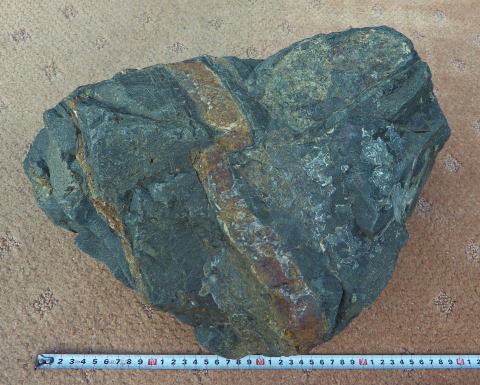 断層のようになってますが、断層でのくいちがいでは無いようです。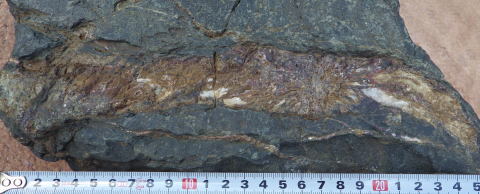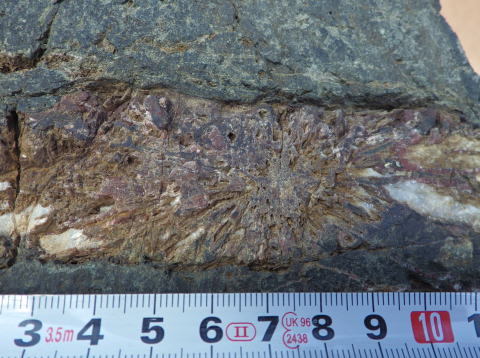 菊花石部分の拡大。
 こんな産状の菊花石は、始めてみました。この石からは、少なくとも、「菊花状の亀裂に炭酸カルシウムが充填した」と言う説の可能性は全く無くなりました。また、熱水脈の様にも見え、僕の海綿説も怪しくなりそうな気配です。
********************************************
Chrysanthemum stone is not a mineral name. Chrysanthemum stone is the viewing stone. Only, it is the stone which resembled a chrysanthemum. Therefore, an artifact, too, is included. That the mineralogist can not find out the essence of this imitation is being disqualified.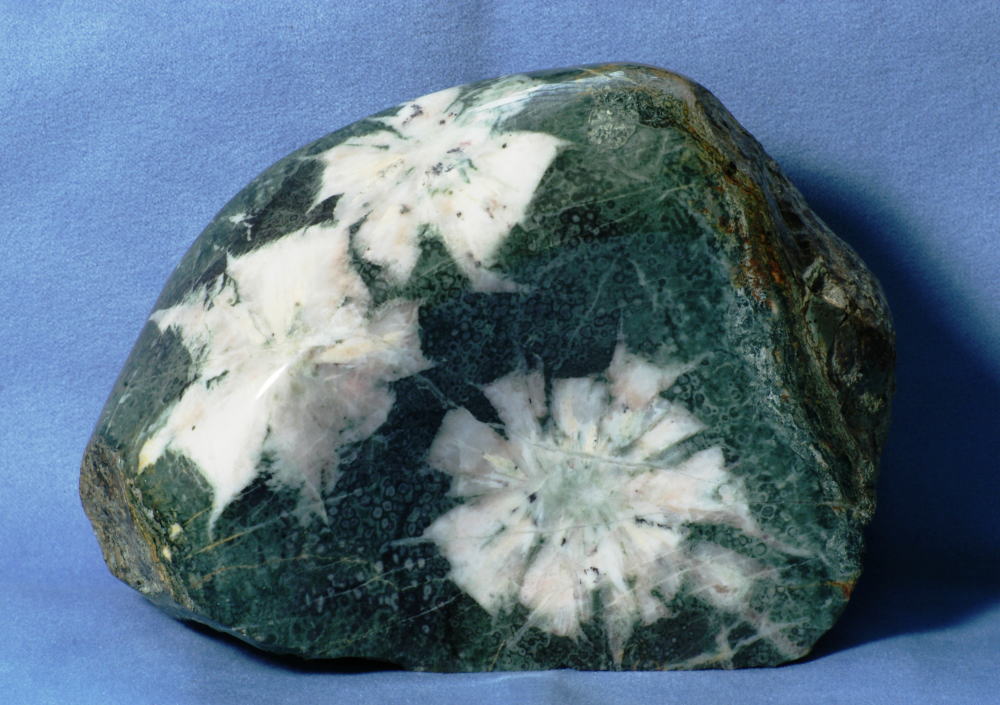 Neo Chrysanthemum Stone.
Neo Area, Motosu City, Gifu Pref., Chubu Region, Honsyu Island, Japan.
Therefore, all of it are not always a natural product. There is artificial one, too, in it. Also, the stone of various origin is included.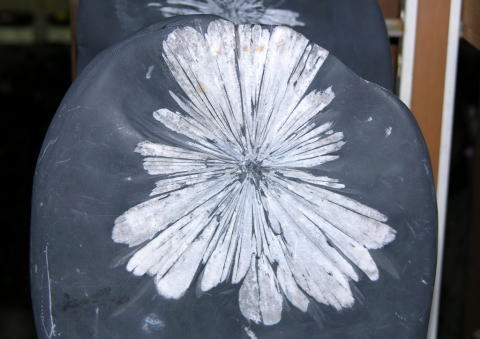 China Chrysanthemum stone.
This is not a natural product. This stone is the viewing stone which made a thin calcite pulse the form of the chrysanthemum with the sculpture.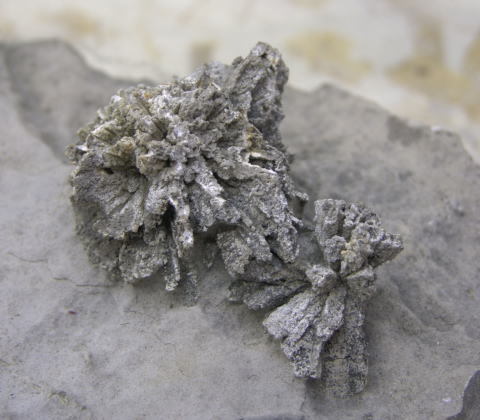 China Chrysanthemum stone in limestone.
This will be fossil surely.

Then , the definition of Chrysanthemum stone is the style which isn't cleared. But it seems that it calls the radial aggregate of the calcite crystal Chrysanthemum stone. Moreover, it is called Chrysanthemum stone irrespective of the origin. Besides, Orbicular Granite, Spherulitic Rhyolite and then radial various minerals, too, are sometimes called Chrysanthemum stone. Well, all radial minerals and rocks are Chrysanthemum stone.


The most famous one is Chrysanthemum stone to produce in Neo area,Gifu Prefecture. It thinks that Neo Chrysanthemum Stone is calcite pseudomorphs after aragonite in schalstein matrix. Besides, it produces the same Chrysanthemum stone from several places in Japan.
In U.S.A., it seems that it is confused with Chrysanthemum stone in the crystal of the xenotime and the zircon arranged in a radiating, flower-like pattern in Japan. In Japan, such zircon is called umbrella -shape zircon.


Then, another famous Chrysanthemum stone is China production.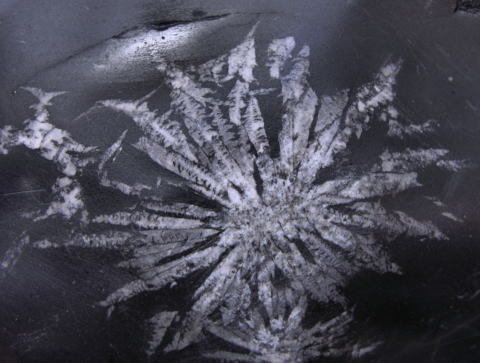 China Chrysanthemum Stone.
China Chrysanthemum Stone is calcite pseudomorphs after aragonite or celestine in calcareous shale or in limestone matrix.
Taking warning from these status, Chrysanthemum stone is the word which means the viewing stone of radial calcite. I think that it should call each production area name, putting it to the head because the origin of Chrysanthemum stone varies.
************************************